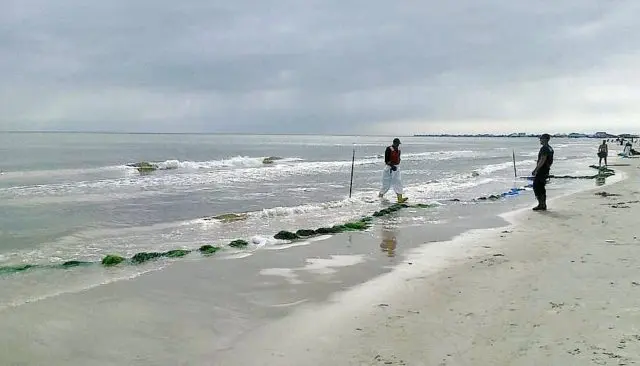 Our intimate, beautiful Dauphin Island is getting global acclaim once again, most recently courtesy of Travel and Leisure Magazine. They said, "This often-overlooked Alabama island has all of the amenities of a popular beach destination with a small-town feel."
There's no doubt about it, our little corner of the earth is unique. Truly a place where the sun shines year-round, where there's very little in terms of cold winters, and our slower pace seems to just melt stress away. Luckily, we've mostly avoided the acclaim and the associated crowding seen at nearby Orange Beach and Gulf Shores, Al.
Arriving either via the Dauphin Island Bridge or Dauphin Island Ferry (Mobile Bay Ferry), you quickly cruise onto an island world so near yet far away. Until 75 years ago, the only way to get to the island by by plane boat or ferry. But since the bridge opened, all that changed with easy access from mainland communities..
We welcome you at our beach rental homes.
When you stay at Dauphin Island Beach Rentals you'll be close to Dauphin Island Beach. Just pick your your favorite island beach locations, and book your stay.
Dauphin Island Beaches.
There are two public beaches for island visitors at enjoy and another one perfect for fishing. All Alabama beaches are open, so in addition, you'll find fourteen miles of waterfront for all your favorite activities, from beach, to fishing, shelling, walking and so much more.
One of the two great beaches is called Dauphin Island Public Beach, which is found on the west end. The other beach, East End Beach, is on the east side of the island.
Public Beach is a light-colored beautiful sand. It's quiet, not crowded, and very large. You'll find the water to be clea and shallow. There's also great fun to be had by kids on the playground.
The beach hours are from 8:00AM to 6:00PM, all year. An entrance fee is charged during the summer season. Paid parking $3/car plus $3/person) is available.
Also visit remote and exotic West End Beach for great fishing.
There's a somewhat long walk from the parking lot to the beach, where you'll enjoy this beautiful beach largely to yourself. You'll also find dolphins that swim close to shore, and fish and crabs in the water.
We have many fine vacation rentals nearby, so you're never far from the beach.
Some of the things we love most about Dauphin Island Beach is the lack of crowding, the crystal clear water, and the beautiful sand. It's also nearby both Mobile, Pensacola, and even New Orleans.
Other nearby beaches for those seeking to venture further afield include East End Beach, Fort Morgan Beach, Bon Secour Beach, Fairhope Municipal Pier Beach, and Gulf Shores.
Remember that Dauphin Island is intimate, so you'll find everything you desire within a very short distance, and most possibly just a walk away.
When dining comes to mind, there's no shortage of great eating, with Dauphin Island restaurants serving up famous seafood dishes, to burgers, fine dining, and more. We love to stop at the Lighthouse Bakery in the morning.
When you're in need of any gear, you'll find stores including groceries, fishing tackle, beach attire, art, and souvenirs.
Most of our Dauphin Island Beach rentals have gas or charcoal grills available during your stay. Grill your favorite foods and enjoy evenings on Dauphin Island including night crabbing, board games and more. You can stay in touch with our WiFi in all rentals and cable or satellite TV.
Lastly, enjoy some of our most iconic activities. Visit the Audubon Bird Sanctuary, the Estuarium facility, historic Fort Gaines, Shell Mound Park (of historical significance for the shell mounds archaeological sites), the Dauphin Island Marina, and the Dauphin Island Sea Lab.